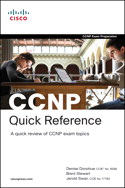 CCNP Quick Reference — A quick review of CCNP exam topics
Denise Donohue, CCIE® No. 9566
Brent Stewart
Jerold Swan, CCIE No.17783
SBN-10: 1-58705-799-9; ISBN-13: 978-1-58705-799-1; Published: Jun 6, 2008; Copyright 2008; Dimensions 6 X 9; Pages: 384; Edition: 1st.
As a final exam preparation tool, the CCNP Quick Reference provides a concise review of all objectives on the four CCNP exams, including BSCI (642-901), BCMSN (642-812), ISCW (642-825) and ONT (642-845). This book provides you with detailed, graphical-based information, highlighting only the key topics in cram-style format.
The easy-to-reference format and succinct presentation help you drill on key exam topics.
With this document as your guide, you will review topics on routing, switching, secure remote access networks, network security, and quality of service (QoS). This fact-filled Quick Reference allows you to get all-important information at a glance, helping you to focus your study on areas of weakness and to enhance memory retention of essential exam concepts.
DownLoad: CCNP Quick References